Boats allow you to explore spectacular dive sites not easily accessible from shore. Imagine no entries through surf, no long surface swims, no navigational wizardry to find the site, and no air gone from your cylinder to arrive at the reef you wanted to explore. Instead, imagine effortlessly entering the water from the transom of a boat – in moments, you and your buddy descend to the site, eyes wide open in anticipation of the aquatic marine life you'll see. Imagine diving visibility averaging 100-150 feet, wrecks teeming with life, common encounters with sea lions, octopus, and giant kelp canopies that are home to a vast variety of reef fish, lingcod, urchins, strawberry anemones, crabs and lobsters. Combine the comfort and ease of diving from a boat and your closest diving friends, and you have all the makings for a perfect scuba experience.
Experiences like these attract divers to boat diving; in fact, whether your first or your hundredth dive, virtually all divers end up diving from a boat eventually. Diving and boats make an obvious match. Although there are great dive sites available from shore, some of the world's best diving is accessible only from a boat. With this in mind, the philosophy of this course is to focus on the comfort and ease of diving from a boat. Thus, the goal of this course is to teach student divers a systematic, methodical approach to enjoying boat diving. You will develop the techniques involved in boat diving within recreational limits and while avoiding disturbing delicate marine life.
The best way to learn boat diving procedures and to apply them is by doing it. This course expands your knowledge about the advantages of boat diving, boat terminology, types of dive boats, basic rules of the road, safety equipment for boat diving, boat diving procedures and etiquette, and the basic guides to boating safety. You will apply the knowledge you gain by reading the PADI Boat Diver Manual, watching the PADI Boat Diving video, and on at least two open water dives practicing and demonstrating the practical aspects of boat diving.
Bob Murphy is uniquely qualified to teach this course as a former U.S. commissioned naval officer and having been designated an Officer of the Deck in Fleet Steaming Conditions as part of his Surface Warfare Officer qualifications. He has been the conning officer on destroyers, amphibious ships, a fleet oiler and an aircraft carrier. In addition, he has in excess of 1,000 dives from commercial dive charter boats in multiple countries around the world.
Click below to inquire about our next Boat Diver class.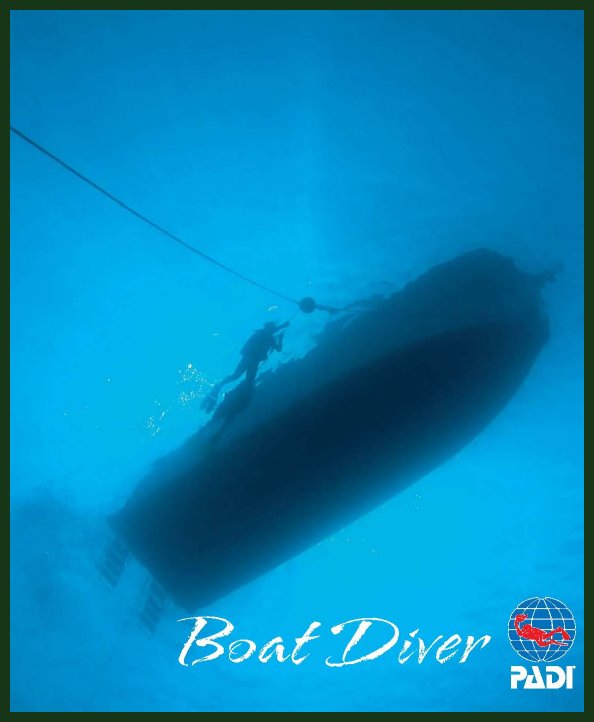 "We estimate that 98% of all the salt water diving in Florida is done from either commercial dive charter or personally owned vessels. Boat diving skills set you apart from other new divers. Captains and divemasters are glad to see knowledgeable people onboard."
-- Aqua Clara Dive, 2012